Online Dialogue House: Belonging to Dialogue
Wed 4 November 2020, 19:00

-

22:00
Due to the Coronavirus outbreak, we're hosting our dialogues online for the next several weeks. This does take some getting used to, but it is absolutely not difficult at all! We use the platform Zoom, which is easy to use! You will receive a link to log in before the event. Any questions? Get in touch with us!
Would you like to facilitate a dialogue? Want to meet other dialogue facilitators? Do you have an idea or plan that you would like to discuss with others or something you need? Would you like to practice facilitating a table or try out a theme?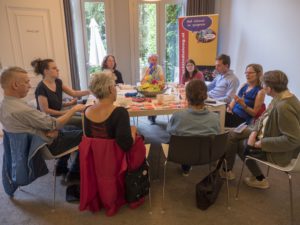 In the Dialogue House, experienced dialogue facilitators, beginners and enthusiasts practice guiding online dialogues, difficult situations and new themes every first Wednesday evening of the month. Curious? Join us and get involved!
In the Week of Dialogue 2020, the Dialogue House is promoted by active people, interns, volunteers, partners, ambassadors and all other parties engaged in dialogues.
We are still looking for dialogue counselors for this!
Belonging to dialogue?

Do you belong to dialogue and how do you know it? Do you enjoy having dialogues around a theme and want you to organize a dialogue in your neighborhood or community? Are you curious about how this works for other dialogue facilitators and followers? Do you want to belong more to a dialogue group in your community? Do you want to take a step further for that? What can we do and what is needed for that?
People with a passion for dialogue >>>
Program:

19:00: Log in and Welcome in Zoom
19:30: Overview and Introductions
19:45: Dialogue in groups of 6-8 people
21:15: Review and Share Insight
21:30: Chat and End of the Dialogue
Dialogue House
The Dialogue House at Maliebaan 45 is a gathering place for people who are passionate about dialogue. Who want to enjoy conversation with others under the guidance of trained dialogue facilitators. Who will explore particular themes in a dialogue form, learn about new topics, or join the conversation. Would you like to test out a theme, try something unfamiliar, facilitate a dialogue, or take a seat at the table? Sign up online, or send an email to info@Utrechtindialoog.nl.
The Dialogue House is part of the Knowledge Center for dialogue >>>