Belonging Under your Skin
Mon 2 November 2020, 19:30

-

21:30
On Monday, November 2, we will have an online dialogue about the theme Belonging Under your Skin. Join us for an inspiring conversation about race, inclusion and belonging, in the Netherlands and beyond. Register via the red button.
Belonging Under your Skin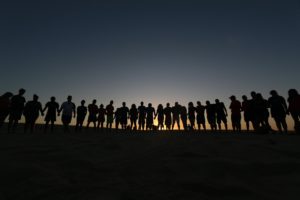 How welcome do you feel in your school, office (work), or neighborhood? Is race something you never have to think about, or do you see its effects in your daily life? How does the color of our skin, the texture of our hair, and the sound of our voice shape our sense of belonging in our society?
How do you see others: belonging to a group or as an individual person that is assessed on his or her capacities? Share your experiences and listen to those of others in this online dialogue about race, inclusion and belonging.
This dialogue is part of the Week van de Dialoog 2020 with the theme Belonging.
What is an online dialogue?
In online dialogues, you can have conversations with others, while seeing and hearing them, through your computer or smartphone. Via the internet, you will engage in a dialogue with 4 to 6 people under the guidance of a dialogue facilitator. We share our experiences, hopes, and what we're going to do according to the Dialogue Methodology.
If you register, you will receive a login link and a password before the dialogue starts. Do you need help getting online with Zoom? Come half an hour earlier or contact us!
Read more about what a dialogue is >>>