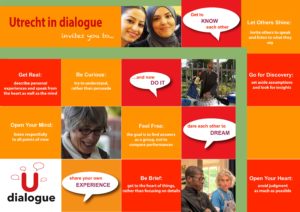 The training centre of The Netherlands in Dialogue (in Dutch only) and Utrecht in Dialogue offers dialogue facilitators and trainers of dialogue initiatives the opportunity to share knowledge and learn together. An up-to-date overview of upcoming trainings and workshops can be found in the training agenda.
Do you want to stay informed? Sign up for the newsletter with training courses and workshops for dialogue facilitators, coordinators and partners.
Appreciative learning
In various courses, trainings and workshops we share experiences, learn with and from each other and bring the dialogue further. The principles of appreciative dialogue are the foundation. In addition, we use other methods than those of The Netherlands in Dialogue.
Read more about what a dialogue is >>> 
Dialogue House Maliebaan45

Do you want to test, try out or deepen a theme? Would you like to meet other dialogue facilitators, practice a children's dialogue or dialogue in English or something completely different? Do you have questions, good ideas, plans for a specific dialogue? Come to Dialogue House Maliebaan 45, the meeting place for dialogue lovers! Everyone is welcome, experienced facilitators, English speakers, starters, young, new and old. Every first Wednesday evening of the month at Maliebaan 45.
Have a look at the coming trainings and workshops >>>.
Do you want to contribute or become active?
You can contribute and participate in different ways.

contribute casuistically, to learn from each other
prepare a theme to explore in greater depth
provide a dialogue training or in-depth workshop
organise an expert meeting around a theme/question
facilitate the dialogue house and help visitors.
We are looking for a coordinator for a Dialogue House >>>
Do you have any other ideas, wishes or tips? Mail us on: info@utrechtindialoog.nl.