Do you understand the power of a dialogue? Can you facilitate a dialogue, train, coach, keep volunteers involved? Do you have experience in designing and organizing dialogues? Do you enjoy working with volunteers, building a community and gaining experience as a volunteer facilitator? Maybe the position of Dialogue House Coach is for you. This is a volunteer function that you do together with other volunteers.
Dialogue House Maliebaan 45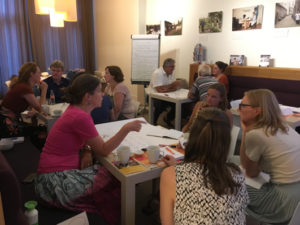 A large number of volunteers are connected to Utrecht in Dialogue who facilitate dialogues with adults, children, young people, in education and healthcare as well as English/multilingual dialogues. Every first Wednesday evening there is a Dialogue House at Maliebaan 45 where dialogue facilitators and organizers meet each other, explore themes, research and learn with and from each other. As a coach you will engage other dialogue facilitators in the Dialogue House and engage in dialogue activities of Utrecht in Dialogue. You supervise dialogue facilitators (starters), think along in the further development of the Dialogue House, the training program and certification of dialogue facilitators.
Your tasks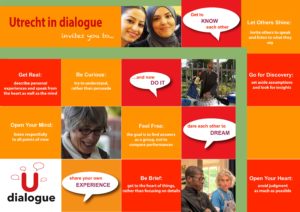 You will carry out the following tasks together with other volunteers:
– Coordination around the Dialogue House Maliebaan 45, possibly also training courses, workshops and practice groups;
– Coaching/helping dialogue facilitators in the preparation of dialogue meetings and the elaboration of themes;
– Involving the dialogue facilitators in the meetings of Utrecht in Dialogue;
– Thinking along in the further development of the Dialogue House and the training centre of Utrecht in Dialogue.
Your profile
You know the power of the appreciative dialogue, are an experienced dialogue facilitator, are familiar with the appreciative dialogue methodology (Appreciative Inquiry) and apply this in your working method and the way you conduct conversations. You have experience with giving trainings, facilitating learning processes and working with volunteers or you would like to develop yourself in this area. You find it important to be involved in a meaningful way, to be able to deal with differences and to offer space to the energy and talents of volunteers. You can work 3-6 hours a week for at least 9 months.
Our offer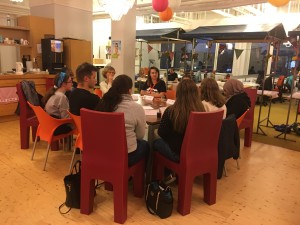 What we're offering:
– an interesting and relevant function in an organisation that matters
– a rich variety of volunteers with different talents
– an opportunity to develop yourself and continue to learn with others
– training courses and workshops and reimbursement of expenses.
We can adjust the function in consultation with you according to your possibilities and wishes. The function is suitable for students, starters, re-integrators, reorientators and pensioners.
Want to know more?
Check this site for more information about Utrecht in Dialogue and the Utrecht Training Centre. Are you interested? Register for a dialogue and/or training and make an appointment for an introductory meeting via info@utrechtindialoog.nl.