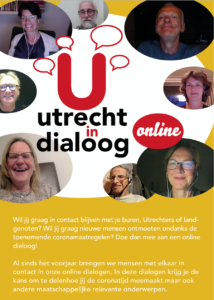 In 2021 we are continuing to do dialogues via Zoom. This allows us to stay in touch with each other, meet new people and continue to have dialogues. Including dialogues about what we see happening and what is changing. With yourself, loved ones and others, both near and far. Right now, we need one another more than ever and contacts outside your own bubble are so valuable!
Join an online conversation!
How are you experiencing this corona time? What do you notice and what touches you? Join an online dialogue and discover the value of an online conversation with fellow citizens you don't know yet. Discover other worlds without traveling and be surprised! Bring your neighbours, family, colleagues and friends too!
Special series
In the series Healthy Summer Encounters you can meet others in different ways this summer, talk about what keeps you busy, go for a walk and do things together. Get to know the neighborhood and each other better, inspire each other and get moving.
At the beginning of 2021 we started the Meet & Stroll series under the motto "better a good neighbour….", to get / stay in motion, mentally, physically and socially and because contacts outside your bubble are worth so much. We are now approaching summer and then autumn and winter.
In May 2021, under the motto A world of and for everyone, we discussed the value of inclusion and diversity in yourself, around you, in Europe and the world. To celebrate the freedom to be who you are and make a difference your way.
After the summer of 2020, we started the dialogue series Stronger from the Crisis about the consequences of the corona crisis. How has the corona crisis affected your life? (both live in the Kargadoor and online and also in English)
And more…
What is a dialogue?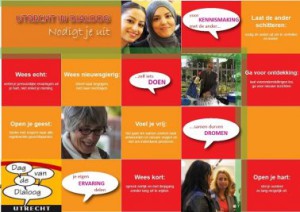 A dialogue is an open conversation about experiences, dreams and possibilities. In a dialogue, you enter into a conversation with each other, and you meet people who you may not normally meet. Everyone is discussed and heard. Real listening is the basis of this. A dialogue contributes to mutual understanding, connection and insight.
Since the corona crisis, we have been going into dialogue online so that everyone can participate at a safe distance. We use Zoom for the online conversations. You can sign up for a dialogue via the red button on the top of the page. You will then receive an email with a login link and password that will give you access to the Zoom meeting room where the dialogue takes place.
Read more about using Zoom here >>>
Read more about participant experiences here >>>
Want to get involved?
Do you want to get involved in hosting, facilitating or preparing online dialogues? Check out the opportunities and get in touch.