Utrecht in Dialogue will be hosting all events online due to the Coronavirus outbreak. Because the dialogues are now online, you can participate in dialogues in the comfort of your own home by using your computer and headphones with a microphone. We are using Zoom, which is a tool that we pilot tested in 2019 in an online discussion on money concerns.
Utrecht in Dialogue volunteers and active stakeholders also used online Zoom sessions to work together in the Online DialogueLab to learn how to facilitate dialogues and to try out new themes in the Online DialogueHouse. This experience showed us that it is fairly easy to use Zoom and it is great to meet each other in this way. By seeing each other in person, you will have more contact than through calls. 
What is an "Online Zoom Session"?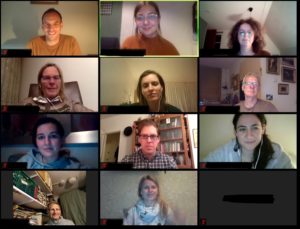 During an online Zoom session, you will log in to a room on the internet. When you login, you will see software on your computer that connects with the room on the internet where the event is taking place. When you enter the room, you will turn on your videocamera and microphone, and you will appear in the picture. You can then talk to others who are present in the room. The host will greet everyone and explain what's going to happen.
In the Zoom session, you can talk to each other, give presentations, show how things work, and work together. You can even break out in groups. Utrecht in Dialogue uses Zoom sessions for Dialogue meetings, workshops, trainings, and informal meetings. 
How can you participate?
Register yourself for an event via the red button on the website. You will automatically receive a confirmation in your mailbox.
On the day of the event, you will receive the login link for the event and possibly a login in code on the email address you provided. By clicking on the link, you will be directed to the room on the internet where the event is taking place.

Make sure that you are in a quiet room when you're logged in, preferably by yourself.

It is preferred that you use headphones with a microphone in order to avoid any disturbing ambient noise.
You can open Zoom in your browser or install the software/app on your computer, tablet, or smartphone if your device asks for it. You can see how the log in works in the video.
You can log in to Zoom with a computer (Microsoft of Apple) with a microphone and videocamera, with a smartphone (iPhone or Samsung) or tablet (e.g., an iPad).  To use Zoom on a smartphone or tablet, first download the Zoom app and then click on the sent link to use the Zoom app on your phone.

You will need good internet connection, otherwise the image or sound from others will be distorted.

 

Click here to see how to improve your bandwidth (Dutch only) >>>