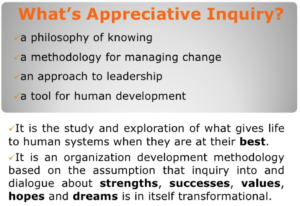 In dialogues we work according to the principles of appreciative inquiry. Appreciative inquiry is a cyclical change approach that examines what works, uses one's experiential knowledge, values differences between people, connects people in an open conversation on an equal basis, and maps concrete action perspectives towards a hopeful future. It is a way to learn and from each other and to take action together, to experiment and to progress in line with everyone's possibilities and talents, to realize dreams that fit what we want, what we can do, and what we need.
Appreciative Inquiry
The Appreciative Dialogue methodology is based on Appreciative Inquiry, a practical and multifaceted approach to change by David Cooperrider that releases positive energy and experiential knowledge, combining different elements to make collective wisdom work. The ideas of U-Theorie, positive heath, and positive psychology are in line with this. Read more on the 5-D Cycle Appreciative Inquiry. Listen to David Cooperrider on the basic principles and improving lives.

Various Applications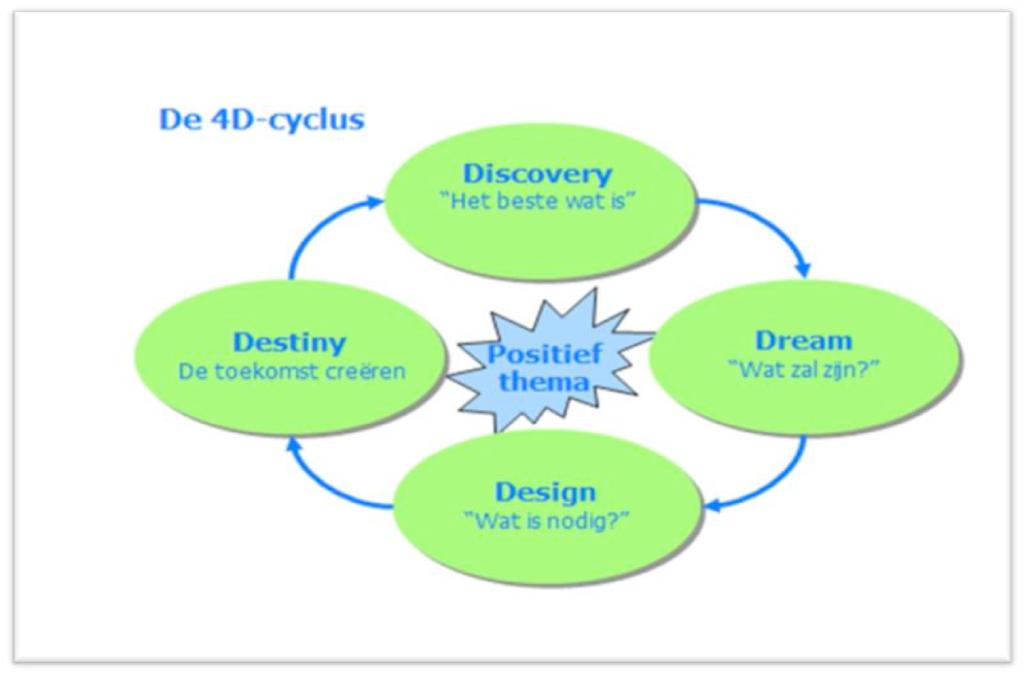 The appreciative dialogue method is applied in public dialogues and closed settings around various themes. In learning trajectories, change trajectories, and innovation trajectories, in the (healthy) neighborhood/neighborhood approach, in democratic renewal, community-building, do-it-yourself democracies, social transitions and civic councils. The appreciative dialogue approach is also applied in the context of personal development, team development and culture change in healthcare and education, in organizations, companies and networks.
Take a look at the agenda for upcoming public dialogue meetings and register to experience the workings of appreciative dialogue.
Personal, Social, and Societal Change
Participation in dialogues brings change on a personal level, in communities and in society as a whole. Through mutual understanding, new insights and working together on new solutions in relationships under tension between residents, entrepreneurs, professionals and government. In practice, we work step by step to empower people and voices that are less heard, towards a more inclusive society and democratic innovation 'from below'.
On the benefits of dialogue >>>
Appreciative learning & coaching
Through the Training Center, we further advance dialogue, offer dialogue facilitators and partners the opportunity to learn to guide, design and enable dialogue. We provide tailor-made training courses, workshops, courses, expert meetings and dialogue trajectories. We offer customization around specific issues, a culture change process or social issue. We share our knowledge and continue to learn together according to the principles of appreciative learning.