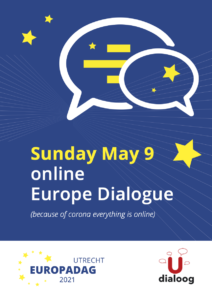 On 9th May 2021, I joined the dialogue "The Soul of Europe" in celebration of Europe Day. This celebration is held every year to commemorate the presentation of the Schuman Declaration on 9th May 1950. This declaration intended to make wars in Europe "not merely unthinkable, but materially impossible" (European Union). The foundation of the European Union as an economic and political body is important to keep in mind when discussing the soul and future of Europe. The following questions were posed on the flyer advertising the dialogue: Which stories do we have? Which values do we share? What does Europe mean to us now and what kind of Europe do we want for the future?
These questions suggest that "Europe" as we know it is not just an economic or political or even a cultural entity – it is any and all of them.
A non-European perspective
Ironically, my interest in creating the agenda for the Europe Day dialogue and participating in it stemmed from my background as a non-European. I was born and raised in the United States and have lived in the Netherlands for 1.5 years over the course of 3 years. Growing up, I always had a passion for internationalism. Before I even started university, I was impatient to wait until my third year to venture off on my semester abroad. At the end of high school, I decided that I would eventually study somewhere in Europe. Looking back now, that decision was based on the image of Europe I held – rich cultural history, international cooperation, effortless travel – rather than on any knowledge of current events. Though I traveled to a few different countries in pre-COVID times and my friends and family joke that now I am "so European," I can hardly say that I have experienced Europe. I have experienced the Netherlands (particularly the Randstad), so how comfortably can I apply my experiences here to a collection of diverse countries? 
Multilingual Europe
During the dialogue, it was clear that my understanding of Europe was influenced by my background as an international student. My fellow dialogue attendees were older folks who either grew up in the Netherlands or have lived here for a long time. All the attendees spoke Dutch. I used my passive Dutch abilities to listen to the others' stories, and relayed my own stories in English. I would argue that the multilingual set-up of the dialogue itself is a reflection of Europe's soul. 
Defining Europe
While there were various perspectives on how to view Europe – as an economic, political, or cultural entity – it became clear that all attendees were in favor of Europe's existence. Still, thinking about Europe as a concept can be difficult. Someone mentioned that it is hard to grasp Europe in daily life. Another attendee described life in Europe as a paradox; on the one hand, there is more Europe in our lives than we think, but on the other hand, there is also less. This paradox resonates with me as an international student. When I interact with other internationals or see posters for Eurovision hung up across Rotterdam, I am aware that I am in Europe. On the other hand, when I tell friends and family back home that I live in Europe, I do not make a false statement per se, but rather a misleading one. I only have experience living in one European country. Without shared dialogues with other residents of Europe, how can I know which experiences are particularly Dutch and which are generally European? 
Challenges across generations
Other attendees mentioned certain phenomena that might negatively impact multiple countries in order to make sense of Europe. Examples included the status of UK students in the Erasmus program after Brexit or the stability of Germany as Angela Merkel's leadership approaches its end. These situations, along with issues such as the rise of right-wing extremism or inequity under a shared economy, contributed to attendees having a cautious optimism towards the future of Europe. Attendees were cautious given the aforementioned phenomena, as well as years of experience living in Europe. Nevertheless, attendees were also optimistic. They saw hope in younger generations, particularly students, who are keen on collaborative approaches to pressing issues such as climate change.
Across generations, it seems that the importance of Europe as a body is recognized. Whether people resonated more with Europe as an economic, political, or cultural body did not seem to affect their support for Europe in general. I would be curious to see the results of a dialogue such as this on a larger scale and in contexts outside of the Netherlands. I find it reasonable to assume that the participants in "The Soul of Europe" signed up because they were genuinely interested in and positive about Europe. I wonder if most people in Europe also feel the same. 
Written by Madison Steele, May 2021