Since we cannot have in person dialogues, we're temporarily going completely online in order to maintain contact with each other, to meet each other, and to keep talking to each other. We need each other in these times. What are you experiencing and what touches you emotionally? You can talk to people who you already know, and with others who share your city and country, about what you see happening and what you see changing with yourself, and you loved ones near and far. How are you experiencing the Coronavirus crisis and the quickly changing world? What does this mean for the way in which we interact and live with each other? What are your fears and hopes? What are you doing and what do you need for yourself?
Online dialogues
In online dialogues, you can have conversations with others, while seeing and hearing them, through your computer or smartphone. Via the internet, you will engage in a dialogue with 4 to 6 people under the guidance of a dialogue facilitator. We share our experiences, hopes, and what we're going to do according to the Dialogue Methodology.
Upcoming online dialogues:
Over the past months, we've been talking about the following themes:
There will be more English dialogues soon. Keep an eye on our calendar!
Temporarily completely online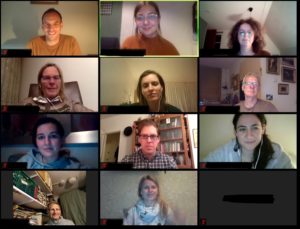 Utrecht in Dialogue is now online until further notice due to the Coronavirus. We are familiarizing volunteers and participants, and training them to work together online and facilitate online dialogues. We are using online Zoom sessions, a tool that we have experience using for our online dialogue on Monetary Concerns in 2019. In March 2020, we have created the first Online Contact Dialogues series with the help of volunteers and partners to have conversations online about the things that concern us around the Coronavirus crisis.
Online workshops and trainings
After the Coronavirus outbreak in March 2020, we started the Online DialogueLab with volunteers. The DialogueHouse has also been moved online. In the online DialogueHouse, dialogue facilitators and aficionados try out online facilitations of dialogues around various themes. The Dialogue Organization workshop and Dialogue Facilitation training will also be offered online and further developed. Do you want to be active in the organization or facilitation of an online dialogue? Do you want to organize a online dialogue for your street/neighborhood/club/class? Check out our training agenda and/or contact us.