When Ceren Tunali sought to conduct research on Diversity and Inclusion, she was drawn to Utrecht in Dialoog due to the organization's mission statement: stimulating meaningful conversations between people from Utrecht with different backgrounds about important themes. In her research, which she conducted in part at Utrecht in Dialoog, Ceren proposed several recommendations for organizations to promote Diversity and Inclusion. Even after completing her research, Ceren remains an active volunteer and contributes to more diversity and inclusion in of Utrecht in Dialoog. She now organizes, facilitates and hosts English speaking dialogues  and coordinates work on Diversity and Inclusion.
Professional and personal interest
Ceren initially joined Utrecht in Dialoog in January 2020 with the goal of conducting the research for her master's degree at the Radboud University in Nijmegen. She was immediately drawn to the work of Utrecht in Dialoog in using the power of dialogue to bring people together to talk about things that matter to the community. Some of these subjects traversed the boundaries of race, love, and human rights—topics that aren't easy to discuss. Ceren witnessed this herself when she attended an intriguing neighborhood dialogue on Kanaleneiland, and another equally intriguing dialogue on Love.
The theme of diversity and inclusion has long been of interest to Ceren. Before moving to the Netherlands from Turkey in 2019, she worked at a refugee support center. As someone who has been around migrants and has migrated to another country herself, she also has personal experience when it comes to people trying to find their place in society.
Ceren's master's thesis identifies what it means to facilitate Diversity and Inclusion within an organization. While many organizations want to enhance their Diversity and Inclusion programs, Ceren noticed that they do not have defined strategies that would allow them to do so. In her thesis, she presented concrete recommendations that would help organizations achieve their Diversity and Inclusion objectives.
Promoting Diversity and Inclusion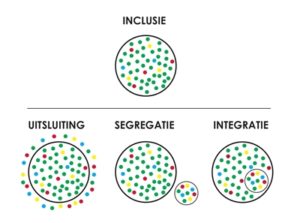 Ceren recommends that organizations make themselves more available by maintaining a strong and up-to-date presence on online platforms, using alternative language, and adapting their location and activity hours as needed. She also emphasizes that organizations should have members from diverse groups in leadership roles and involve them in the decision-making process. In order to bring people from diverse groups into the organization, she also recommends that organizations target members of those groups specifically.
Her research shows that Utrecht in Dialogue has activities that are indeed targeted to diverse groups by hosting events in different local neighborhoods and using a range of language, music, and food. While there are events designed to bring together individuals with diverse backgrounds, documents and manuals are missing to implement Diversity and Inclusion within the organization. Ceren points out the lack of specific strategies that would lead to the promotion of Diversity and Inclusion at Utrecht in Dialoog.
Still bringing people together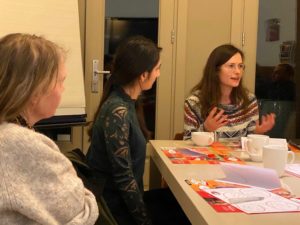 As part of her master's thesis research, Ceren participated in several of the activities at Utrecht in Dialoog, which included attending dialogues. After participating in a couple of dialogues, Ceren soon completed the training to become a dialogue facilitator. While she finished her thesis in July 2020, she has continued working with Utrecht in Dialoog and has gotten involved in several projects since then. She presented her research to Utrecht in Dialoog and gave a workshop about Diversity Management at non-profit organizations in August. She is currently working on three dialogues at the Kargadoor, which will take place from February to April. In addition, Ceren supports Utrecht in Dialoog to have diverse tables and conversations by promoting and organizing English speaking dialogues and contributing to the organization's ideals of Diversity and Inclusion.
Text by Ava Irani