Kargadoor: Love
Thu 27 February 2020, 19:30

-

22:00
Spread Love
February has been marked by Valentine's Day, a celebration of romantic feelings, marriage proposals, and love confessions. Around heart-shaped balloons, teddy bears, chocolate bites and fancy dates destinations, love was commercialized into a red colored craze in tries to show one's affection and love.
Sexual and romantic relationships have been proclaimed 'true love' in many movies, stories and books around the world. Is it the only type of love though? And is there something as 'unacceptable' love?
In societies filled with hate speech both online and live, affection and intimacy, as expressions of love, help us overcome difficulties and connect with each other. What love means for us and how we choose to show it to our friends, our parents, children and strangers?
Do you want to share your experiences and ideas and hear those from others? Sign up using the red button on top of the page. Your neighbors, friends and relatives are also welcome to join!
Theme of Belonging
We are social beings; not only do we want to be who were, we also want to belong to a group. Where do you feel most at home? How actively are you looking for new groups and circles? What do you need to find those, or expand them? At the central library we are going to discuss 'belonging' to gather new insights and find connection.
Program
19:00 Reception
19:30 Introduction and overview of the theme
20:00 Dialogue in small groups
21:30 Sharing insights with each other
Wat is a dialogue?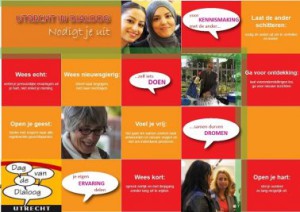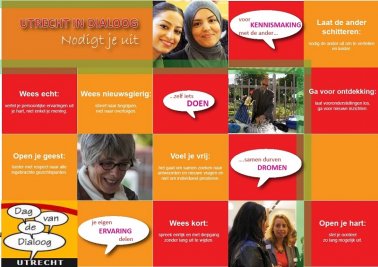 A dialogue table is a place where six to eight people come together to talk about a specific theme. A trained dialogue facilitator guides the conversation and makes sure that everyone is heard and everyone gets involved. In a dialogue the goal is not to win others about to your perspective, but to listen with an open mind to their experiences.