Meet & Walk is an initiative especially for Corona time under the motto "better a good neighbor than a distant friend". A light-hearted series in which you meet different people, discover each other and the neighborhood and enter into conversation on foot. In the summer series Meet & Walk we get to know each other in an informal Zoom session,with or without a snack, drink and plate in front of the tube. During this session you make an appointment with your walking buddy at a time that fits into your agenda. Can't join the match session and still want to talk to a hiking buddy? Mail to  info@utrechtindialoog.nl for a blind walking date!
How does it work?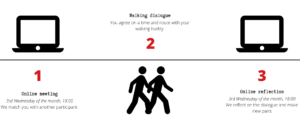 In an online meeting via zoom we get to know each other, the routes and the theme of the walk. This online meeting takes place on the third Wednesday of the month from 6-7 pm. Here you meet neighbors, get to know your walking buddy and agree when you will go for a walk, which route you will follow and where you will meet each other for the walk in person.
During the walk in person you explore a theme together, you discover each other and the neighborhood. You enter into a walking conversation on the basis of the guideline that is based on the principles of dialogue .
In the next online meeting, we harvest yields and insights, we meet new participants, we introduce a new theme and we make appointments for the next walk with someone else.
Upcoming dates and themes
Routes to choose from
A. EXBunkerroute, an artistic trail
B. Open Garden Day walk, Saturday 26 June, visit 47 gardens around Utrecht!
C. City Centre Walk
D. Amelisweerd and Rhijnauer
Dialogue guide
Getting to know: Who are you? What do you think of when it comes to this theme?
Sharing experiences: Share an experience related to this theme. Tell the story from beginning to end.
Dreaming: What is your dream when it comes to this theme? What would you like to be different? Make this dream visible for your walking partner.
Doing: What can you do to bring your dream closer? What could be your first step?
Evaluation: What do you take away from this conversation?
Previous themes
Meet & Stroll Series
The Meet & Walk series is part of the Neighborhood Approach Erbij Horen and is being realized in collaboration with Wijkwijzer NoordOost , Energie U , Beweegvriendelijkewijk  and International Welcome Center Utrecht . The series is made possible by the Oranjefonds ,  RCOAK , Fonds Sluyterman van Loo , VSB Fonds , Health Pact Utrecht  and the Municipality of Utrecht .