Utrecht in Dialogue is online and is looking for a volunteer to host online dialogues and events. Would you like to discover the world of online dialogues, workshops and trainings? Are you familiar with Zoom or would you like to learn more about it? Would you like to contribute to the contact between different people from Utrecht? Especially when we need each other so much. Contact us for an orientation meeting. This is a new position.
The function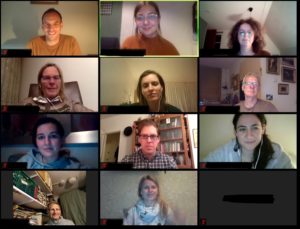 You will help various people in Utrecht to talk to each other online via Zoom. You like to support people remotely, help dialogue facilitators and trainers in using Zoom. Maybe you would also like to host your own online meetings, host webinars, make instruction videos and/or organize an online dialogue around a popular theme. You will work closely together with dialogue facilitators.
Your tasks
guidance/support with hosting and bringing participants online
help design and set up online dialogue meetings
help design online workshops, training courses and webinars
Your profile
You are familiar with online collaboration and distance learning and/or enjoy learning more about it. You find it important to bring different people from Utrecht into conversation with each other. You are able to work independently and in a team and live in Utrecht. You want to work 4-8 hours a week for Utrecht in Dialogue for at least six months.
Our offer
an innovative and versatile function in an organisation that matters
the opportunity to get to know involved people of Utrecht and make a difference
guidance in the execution of your work
joint workshops/labs in which we learn together
reimbursement of expenses
The position can be filled flexibly, can be adapted to your possibilities and wishes, and is also suitable for students, trainees, starters and elderly people who want to gain work experience and/or build up a network in Utrecht. You can work during the day and/or in the evening, from home and via Zoom.
Want to know more?
Are you interested or do you want to know more? Join an online dialogue meeting to get acquainted and get in touch.