The soul and future of Europe
Sun 9 May 2021, 16:00

-

18:00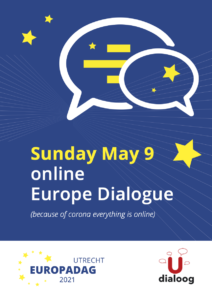 On 9th May, Europe Day, we will reflect together on the soul and future of Europe. Which stories do we have? Which values do we share? What does Europe mean to us now and what kind of Europe do we want for the future? In this online dialogue, different generations discuss the values that speak to them, share personal experiences and dreams and think about how we can bring these dreams closer. Everyone is welcome, English speakers too! You can register via the red button.
Programme
16:00 Welcome and introduction to the theme from AEGEE
16:15 Online dialogue in groups of 6
17:45 Harvest results and conclusions
18:00 Final words and thanks
Do you need help using Zoom? If so, we invite you to join us in the Zoom space 30 minutes before the start of the event.
The soul of Europe
In 1950, the Schuman declaration brought the EU into being.
Robert Schuman: "The European collaboration and integration shall not and cannot become an economic and technical enterprise: it needs a soul, the knowledge of its historical roots and of its responsibilities, in the past and in the future, and a political willingness that serves that same ideal."
Jacques Delors: "Europe needs a heart and a soul". "If in the next ten years we haven't managed to give a soul to Europe, to give it spirituality and meaning, the game will be up". 
What is the state of Europe's soul now? And what about the inspiration and political will for European cooperation? Where do we get to glimpse its soul and which values do we share? Has the myth of Europe become a bureaucratic project, far removed from ordinary citizens? How can Europe inspire and allure us once again? What makes it worth your while to commit to Europe? What can we do, ourselves and together, to bring a newly inspired Europe closer?
In this online dialogue we share our stories, personal experiences, ideals for the future and the steps we can take, ourselves and together, to bring the future closer. Have you glimpsed the Europe of your dreams somewhere? Do you have examples to share? What can bring this Europe into being? Join us and share your story!
What is an online dialogue?
A dialogue is a conversation, where people talk to each other about experiences, visions and possible actions for change. Characteristics of such a dialogue is that you listen attentively to each other with curiosity an an open heart without judging or trying to convince the others. Through dialogue, you seek deeper insights to better understand each other. This way of conducting a conversation takes place in small groups of 6 to a maximum of 8 participants, with a trained dialogue facilitator. Read here more about what a dialogue is >>> 
Sign up for the event using the red button. You will receive an automatic confirmation in your mailbox. On the day of the event you will receive a login link for the event and possibly a login code at your email address. By clicking on that link you will get access to the space on the internet where the event takes place. Read more about the use of Zoom here >>>