Through dialogue, people with different backgrounds, interests, and opportunities get the chance to meet and inspire each other. 
Getting to Know Each Other
In conversation you learn about others, and discover things about yourself. Every conversation is an opportunity. By talking to each other, we come to understand each other better, and may form lasting relationships.
Although Utrecht is an old city, it's always full of new arrivals. Utrecht in Dialogue aims to connect newcomers and longtime residents for positive conversations and shared inquiry. Whether you've just moved to the region or have lived here all your life, you're welcome to join an English-language event and get to know fellow residents through dialogue.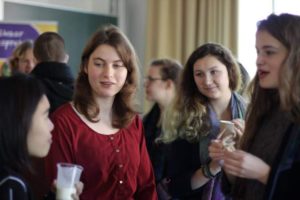 What exactly is a dialogue?
A dialogue is a way of talking with others. Of appreciating differences and inquire themes.from different perspectives to reach new insights. The basis of any dialogue is a willingness to listen, and to invite others to speak. Everyone enjoys equal standing. Everyone participates, and everyone's input counts. Read more on what a dialogue is >>>
Upcoming dialogues
Would you like to take part in a dialogue? You're always welcome! Here is an overview of the upcoming English-language dialogues. Take a look, and be sure to sign up.
Who is the other that you don't know, don't meet, don't talk with? And what happens when you genuinely see, and get to know, the other? On May 21, we will celebrate the International Day of Cultural Diversity with a festive dialogue in Utrecht Overvecht. Music and an Iftar meal, with a voluntary contribution, will complete our celebration of the cultural richness of our city. There will be tables set aside for for English-speakers and speakers of other languages, as well as women-only tables. Sign up online. 
After celebrating 100 years of women's suffrage and 10 years of Utrecht in Dialogue, how do we go further with our democracy?  Can we move from dialogue to activism and to social transformation? On the evening of Tuesday, May 28, city officials, dialogue groups, volunteers, young people, and Utrecht residents old and new will sit down together to discuss their dreams. Participants will also have the option to view our photo exhibition, "Seeing Each Other," and to eat a light meal of bread and soup. Sign up online. 
Interested in a good conversation on the Maliebaan? Want to try your hand facilitating a dialogue? The Dialogue House at Maliebaan 45 is a great place to practice running a dialogue table, or to brainstorm new topics for discussion. Join us  Wednesday, June 5 from 19:30 to 22:30 at Maliebaan 45. Doors open from 19:00. Sign up online. 
June 6, 19:00-22:30: De Voorkamer, Utrecht
What makes a place inclusive? How do cities, schools, or neighborhoods make space for diverse users? On Thursday, June 6, Utrecht in Dialogue and De Voorkamer will host a dialogue on the theme "Including the Other." Inspiration for this theme comes from De Voorkamer's new publication, By & For: Designing Inclusive Spaces. 
Volunteering
Utrecht in Dialoog is currently growing its team of English-speaking volunteers. If you'd like to learn more about our organization or are interested in getting involved, please email info@utrechtindialoog.nl.
Learning to facilitate a dialogue
Ever wonder how can you encourage an engaging conversation about sensitive topics? How can you ask the right questions and provide the right structure? In the workshop 'Learning to facilitate a dialogue' we give you the tools to do this.
Interested in this workshop? Let us know! Once enough people want to do it, we can set a new date!