Through dialogue, people with different backgrounds, interests, and opportunities meet and inspire each other. 
Getting to Know Each Other
In conversation you learn about others, and discover things about yourself. Every conversation is an opportunity. By talking to each other, we come to understand each other better, and may form lasting relationships.
Although Utrecht is an old city, it's always full of new arrivals. Utrecht in Dialogue aims to connect newcomers and longtime residents for positive conversations and shared inquiry. Whether you've just moved to the region or have lived here all your life, you're welcome to join an English-language event and get to know fellow residents through dialogue.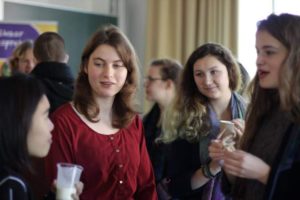 What exactly is a dialogue?
A dialogue is a way of talking with others. Of discussing differences and difficult themes. Of reaching new insights. The basis of any dialogue is a willingness to listen, and to invite other to speak. Everyone enjoys equal standing. Everyone participates, and everyone's input counts.
Upcoming dialogues
Would you like to take part in a dialogue? You are very welcome! Here is an overview of the upcoming English-language dialogues. Take a look, and click on the red button to sign up!
Are digital relationships authentic? Do apps, chats, and other digital platforms help us to understand, and really see, others? These are just some of the topics we'll discuss in this dialogue at De Voorkamer.
November 10, 13: 00-16: 00: Fusion, eLe Tapas Restaurant
 Fusion enriches cuisine, architecture, and entire nations. One key source of fusion in all these spheres is immigration. Have you ever been asked to represent the culture you grew up with in a new country? Or have you found special value in the new ideas or offerings immigrants have brought to Utrecht? As part of our Week of Dialogue, come discuss the subject of Fusion through immigration at eLe Tapas Restaurant. 
Volunteering 
Utrecht in Dialoog is currently growing its team of English-speaking volunteers. If you'd like to learn more about our organization or are interested in getting involved, please email info@utrechtindialoog.
Learning to facilitate a dialogue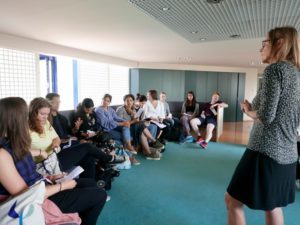 Ever wonder how can you encourage an engaging conversation about sensitive topics? How can you ask the right questions and provide the right structure? In the workshop 'Learning to facilitate a dialogue' we give you the tools to do this.
Interested in this workshop? Let us know! Once enough people want to do it, we can set a new date!