Through dialogue, people with different backgrounds, interests, and opportunities meet and inspire each other. 
Getting to Know Each Other
In conversation you learn about others, and discover things about yourself. Every conversation is an opportunity. By talking to each other, we come to understand each other better, and may form lasting relationships.
Although Utrecht is an old city, it's always full of new arrivals. Utrecht in Dialogue aims to connect newcomers and longtime residents for positive conversations and shared inquiry. Whether you've just moved to the region or have lived here all your life, you're welcome to join an English-language event and get to know fellow residents through dialogue.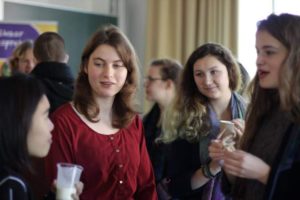 What exactly is a dialogue?
A dialogue is a way of talking with others. Of appreciating differences and inquire themes.from different perspectives to reach new insights. The basis of any dialogue is a willingness to listen, and to invite others to speak. Everyone enjoys equal standing. Everyone participates, and everyone's input counts. Read more on  what a dialogue is >>>
Upcoming dialogues
Would you like to take part in a dialogue? You're always welcome! Here is an overview of the upcoming English-language dialogues. Take a look, and be sure to sign up.
On Friday the 25th of January, we are organizing our first dialogue of the new year with De Voorkamer. New residents, longtime neighbours, students and expats will come together and share their experiences relating to the theme "staying or leaving." With Saskia Harkema, writer of the book Staying or Leaving. Sign up online.
Interested in a good conversation on the Maliebaan? Want to try your hand facilitating a dialogue? The Dialogue Cafe at Maliebaan 45 is a great place to practice running a dialogue table, or to brainstorm new topics for discussion. Join us Wednesday, January 9 at Maliebaan 45 from 19:30 to 22:30 (doors open at 19:00). Sign up online.
How do traumatic experiences affect our everyday lives? And how do artistic representations of such events help us share those experiences with others? Come to the TivoliVredenburg for the opening of the second edition of the 'Utrechts Reqiuem,' performed by the Insomnia Ensemble and Chamber Choir Neon. And stay afterwards for a dialogue on the themes raised by this piece. Sign up online.
Volunteering
Utrecht in Dialoog is currently growing its team of English-speaking volunteers. If you'd like to learn more about our organization or are interested in getting involved, please email info@utrechtindialoog.nl.
Learning to facilitate a dialogue
Ever wonder how can you encourage an engaging conversation about sensitive topics? How can you ask the right questions and provide the right structure? In the workshop 'Learning to facilitate a dialogue' we give you the tools to do this.
Interested in this workshop? Let us know! Once enough people want to do it, we can set a new date!