On Friday evening the 9th of March from 19:00 to 21:30 we will be hosting an election dialogue with De Voorkamer. The theme we will explore together is 'Feeling welcome in Utrecht'. Everyone is welcome to participate!
When did you feel welcome in Utrecht, in your own neighbourhood, in your own street? What is necessary for someone to feel welcome in a place? Can the municipality facilitate this, help us in some way to feel more welcome? Newcomers and locals start a conversation, share their experience and dream about the ideal welcoming city in sight of the municipal elections on the 21st of March.  Sign up here.
Feeling welcome in you municipality
The municipal elections will be held on the 21st of March. Inhabitants over 18 years old who have resided legally in Utrecht for more than five years are allowed to vote.
The candidates with the most votes become boardmembers of the city council. There, they represent the inhabitants, are attentive to what is going on in Utrecht, and listen to wishes and concerns of its resident.
It is the occasion to start a conversation with others, and listen do different, suprising and refreshing voices. It is a way to connect inhabitants with each other and share experiences and needs. It allows us to dream together of a better city and continue to build it together.
What is a dialogue?
In a dialogue you really talk to each other. You speak from yourself and open yourself for the story of the other. It is about listening carefully to each other`s experiences, rather than convincing others of your own point of view. In a dialogue you explore together what matters to you; you share your dreams and what can you do to realise them. The dialogues are conducted through dialogue tables which consists of 6 to 8 people. Each table is facilitated by trained dialogue facilitators. Everyone is heard and is welcome.
Join us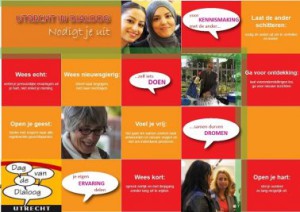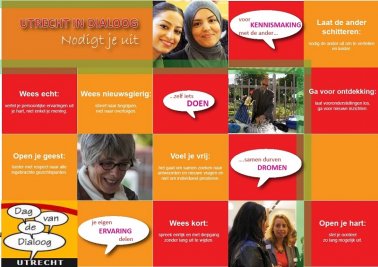 The dialogue will be held on
Friday 9th of March 2018 from 19:00 to 21:30 at De Voorkamer, Kanaalstraat 225, 3531 CJ Utrecht

You can sign up here.
More