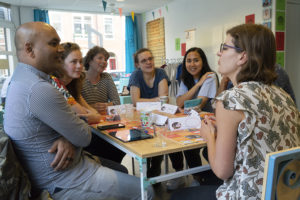 Through dialogue, people with different backgrounds, interests, and opportunities, get the chance to meet and inspire each other. Attending one of our English language dialogues is the perfect way to discover Utrecht and its inhabitants. We host Dialogues in English, beginners Dutch, and mixed languages – find out more below! 
Getting to Know Each Other
In dialogue you learn about others, and discover things about yourself and others. Every conversation is an opportunity to learn from our differences. By talking to each other and listening to other perspectives, we can come to understand each other better, form lasting relationships, and work on a strong community with room for differences.
Although Utrecht is an old city, it's always full of new arrivals. Utrecht in Dialogue aims to connect newcomers and longtime residents for conversations and shared inquiry on actual issues. Whether you've just moved to the region or have lived here all your life, you're welcome to join an English language Dialogue and get to know your fellow residents.
What exactly is a dialogue?

A dialogue is a constructive way of talking with others – of appreciating differences and exploring themes from different perspectives to reach new insights. The basis of any dialogue is a willingness to listen, and inviting others to speak. Everyone enjoys equal standing, everyone participates, and everyone's input counts.
Read more about what a dialogue is >>>
Impression of a facilitator >>>
Upcoming dialogues
Would you like to take part in a dialogue? You're always welcome! Here is an overview of the upcoming English-language dialogues. Take a look, keep an eye out for updates, and be sure to sign up!
Would you like to be updated by email? Sign up for the English newsletter >>>
Join us as we start the new year with a festive gathering at Maliebaan45, as we share our reflections on 2019 and look ahead to plans for 2020. Do you want to join Utrecht in Dialogue or have ideas of your own? Want to arrange a dialogue or provide inspiration to others? Whether you're a seasoned Dialogue attendee, a newcomer, one of our many partners, or would like to propose a new idea, everyone is welcome to join!
Sign up online.
Are you settling temporarily or permanently in Utrecht Region or are you already living here? Either for studies of the work, belonging in our local environment is what makes every day worthwhile. What makes you feel connected to the city? What would you love to explore? Join us at Kargadoor as we discuss excitements and challenges of being new in a city and we explore commonalities among newcomers in Utrecht.
Sign up online.
Love is the primary need for a person to feel safe and wanted. By showing affection and intimacy, we overcome difficulties and we connect with each other. Towards our friends, our parents, children and partners, love has many forms in our everyday life. But what is love exactly and how we choose to show it to the people around us? Is there something as 'unacceptable' love? Join us at Kargadoor as we discuss the different roles love plays in our lives.
Sign up online.
If there is only one thing that people have in common is that we all have a body. 2019 has been marked a year for more equal representation of bodies, body positivity, and inclusion. Even so, how much we judge our bodies and what kind of taboos exist around them? What role media play forming the ideas around our bodies? Do we feel comfortable or safe talking about them? Join us at Kargadoor for our monthly Dialogue as we discuss this!
Sign up online.
In a few days, May will bring the day the Netherlands celebrates the Liberation Day and 2020 marks the 75th year of independent after WW2. While we celebrate the victory of Democracy around many countries in the European Union, other countries are still war zones. What role media play in portraying the world's situation and what is peace for us? Join us at Kargadoor to discuss our ideas around liberation, unity and freedom.
Sign up online.
Learning to facilitate a dialogue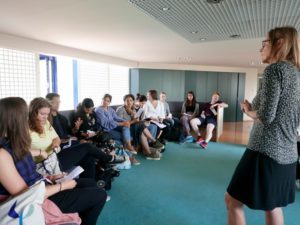 Ever wonder how can you encourage an engaging conversation about sensitive topics? How can you ask the right questions and provide the right structure that allows others to open their hearts? In the training 'Learning to facilitate a dialogue' we give you the tools to do this. Interested in this training?
Join the Dialoguehouse, each first Wednesday of the month @Maliebaan 45 and subscribe to a training to facilitate a dialogue.
Volunteering?
Have you followed the training and would you like to facilitate a dialogue? We are looking for facilitators >>>
Utrecht in Dialoog has a growing team of English-speaking volunteers and dialogue facilitators, who contribute to the future of this town through stimulating and facilitating dialogue. Interested? Join one of our dialogues or come to the Dialogue House held monthly at Maliebaan 45!
Would you like to become more actively involved to make a difference, learn more on how to come to dialogue, or build a network in town?  Do you have time to volunteer, and want to discover the city and its inhabitants? Read how you as a volunteer can help us to bring communities together.
Would you like to join the team and help us organise more events? E-mail info@utrechtindialoog.nl.