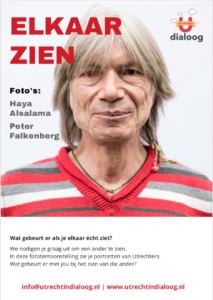 To mark 10 years of Utrecht in Dialogue (2019) we are sponsoring a photo exhibition titled 'Seeing Each Other'. We are very happy to be able to display the portraits of 27 valued men and women who have shared their images and their stories. The photographs were captured by Haya Alsalama (b. 1992, Syria) and Peter Falkenberg (b. 1963, Germany) on Utrecht's Stadhuisbrug. Many thanks to all the volunteers who made this exhibition possible!
Through this exhibition we invite all Utrecht residents to take the opportunity to truly see each other.
At various locations
The photo exhibition was on display in Overvecht, Utrecht Centrum, and Kanaleneiland. It began in April in Bibliotheek Overvecht, moved in May to the Stadskantoor, moved over the summer to De Alchemist in Kanaleneiland and will finish in Krachtstation Kanaleneiland in january 2020.
April 6 to April 26 2019, Bibliotheek Overvecht, Gloriantdreef 1, Utrecht
May 6 to May 29 2019, Stadskantoor, Stadsplateau 1, Utrecht
June 6 to August 31 2019, De Alchemist Kanaleneiland, Koningin Wilhelminalaan 8, Utrecht
October 11 to January 2020, Krachtstation Kanaleneiland
Grand Opening
The grand opening of the photo exhibition took place on April 6 in Bibliotheek Overvecht. Immediately afterwards we sat down for a dialogue on our impressions of the pictures, our dreams about seeing each other, and the steps we can take to achieve them. Dialogue tables in Dutch and English were available. 
Background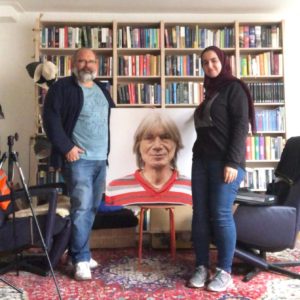 Peter Falkenberg and Haya Alsalama, volunteers at Utrecht in Dialogue, teamed up one year ago to propose a photo exhibition inspired by the national dialogue theme 'Seeing Each Other.' An exhibition focusing on portraits of individuals, freed from their backgrounds and everything else superfluous. This would make possible a direct dialogue between the viewers and the people in the photographs. Here the pitch began in earnest. Why a photo exhibition? Was this a good fit for Utrecht in Dialogue, and would it work? Since we were now celebrating 10 years of Utrecht in Dialogue, and our volunteers like having the chance to share ideas, we entered into conversation. Was this a way of inspiring us to truly see each other, to make contact? Where do shared insights and collective wisdom come from? We are very happy to be able to show these photos, and invite you to view them with an open heart, and to share your experience.
More
Seeing Each Other (inspiration)
10 Years of Utrecht in Dialogue
What is a Dialogue?
Utrecht in Dialogue