There were no results found.
There were no results found.
Gezondheidspact Utrecht
Utrecht in Dialoog is an ambassador for the Health Pact, and works with partners throughout the city on positive health by bringing people into dialogue according to the methodology of the
Appreciative Dialogue
on themes that are living in the city. In dialogue, people, initiatives and possibilities are brought together, knowledge and stories are shared, new insights and initiatives for collaboration are created. In 2020, Utrecht in Dialogue organized a series of healthy online conversations with the Health Pact to investigate what works/helps in times of crisis, what this brings, what we want to keep and what is needed for this as part of the project
Online Belonging in Crisis
. In 2021 this collaboration will be continued in a contribution to the Meet & Stroll with
Wijkwijzer NoordOost
, especially for Corona time in the context of the
neighbourhood approach to belonging
. Utrecht in Dialogue also facilitates conversations about
sexuality
, corona, money worries, meaning, nutrition and other
themes that are alive
. We visualize conversations in
stories
and
portraits
, organize joint learning moments and inspiration sessions in a
training center
and produce an annual report.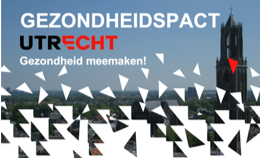 The
Health Pact
is an extra impulse for the Utrecht movement towards healthy urban living for everyone. Anyone can join the Health Pact to contribute, collaborate, inspire and learn from each other. Residents, professionals, volunteers, initiators, entrepreneurs, municipality, companies, authorities: everyone is welcome!

The mission of the Health Pact is in line with the mission of
Everything is Health
: to work with as many partners as possible for a Netherlands in which everyone is healthy and happy.