Ukraine: doing your part
Thu 19 May 2022, 19:30

-

22:00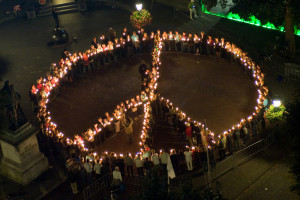 The news about the war in Ukraine can make you feel powerless. So much suffering and grief, what can you do about it?
Yet there are things we can do, however small. In this dialogue we will discuss how you can contribute in your own way.
Have you yourself helped with the welcoming of refugees? Have you donated money or items? Do you know people who have taken in Ukrainians? What touched you, what made an impression?
Maybe you would like to contribute but don't know how? Then too, you are very welcome. You can register via the red button!
Sharing experiences
In a dialogue you share personal stories with people you don't normally meet and you discover other often surprising perspectives. Based on your personal experiences you explore what doing your part when it comes to the war in Ukraine means to you and others, what you want to change and what you can do.
Program
19:15 Arrival
19:30 Welcome and inspiration: Lambert shares his experience of welcoming two Ukrainian mothers and their children into his home.
19:45 In dialogue with each other
21:30 Sharing insights and wrap up
Europe Day Utrecht
This meeting takes place in the framework of Europe Day. We work together with the Committee Europe Day Utrecht and the Kargadoor. The program of this year:
Monday 9 May, 20:00 -22:15, Nicolaïkerk (In Dutch)
Europadag Symposium – with a number of lectures on the background of the war, and a look at the future. What does reconstruction require? And what role can Europe, the Netherlands or Utrecht play in this regard? More information and registration >>
Thursday 19 May, 19:30 – 22:00, The Kargadoor
Europe Day Dialogue Ukraine, doing your part – We continue the discussion, this time from your own experiences and explore together different ways to contribute. You can register using the red button at the top of the page.
More