Sharing is caring
Thu 11 November 2021, 19:30

-

21:30
During St. Maarten's Day, we are talking about sharing. How can we set up our lives to thrive more as a sharing society? How can we help the world move forward by sharing? Join us to talk about these in 'Sharing is caring'dialogue.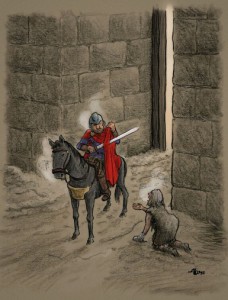 Eating along with the neighbours. Sharing a car with your friends. Sharing works! The holy St. Maarten shared his clothing with the poor out of love and sympathy. Those qualities sometimes seem to be missing from today's individualistic world. During this dialogue, we discuss ways to share more with each other. What steps can we take to more sharing and caring?  
Would you like to join this dialogue in De Kargadoor? Register now via the red button! 
Program
19:00 Reception
19:30 Introduction and overview of the theme
20:00 Dialogue in small groups
21:15  Sharing insights with each other
21:30 Closing
What is a dialogue?
A dialogue table is a place where six to eight people come together to talk about a specific theme. A trained dialogue facilitator guides the conversation and makes sure that everyone is heard and everyone gets involved. In a dialogue, the goal is not to win others about to your perspective, but to listen with an open mind to their experiences.
Read more about what a dialogue is >>>