Online: Peace unites differences
Wed 23 September 2020, 19:30

-

21:30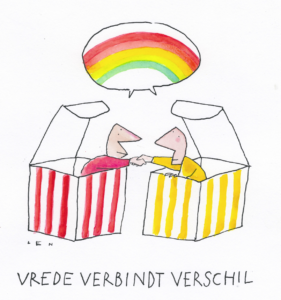 How do we tackle the differences in cultures, values, skin colours and religions? Through the moral views opposing our freedom of expression and our quest for equality? It needs the courage to stand up for someone different than you; to talk for people who think, live, work, believe, hope and love differently.
September 21th we celebrate the International Day of Peace. The theme of the Dutch PAX Peace Week 2020 is 'Peace unites differences!' Welcome to this online Peacedialogue! You can register via the red button.

Program
After a short introduction on the theme, we will listen to each other's experiences, dream about the future and talk about the novel possibilities.

19:30 Welcome and inspiration on the theme
19:45 Dialogue in groups of 4-6 people
20:45 Review and Share Insight
21:00 Closure

If you need an explanation about Zoom, you are invited to the Zoom room a half an hour before the launch of the event.

Read more about using Zoom >>>
Peace unites differences

In the Peaceweek, we will share our experiences about borders in dialogue with people from various places and cultures. We will share our experiences and ideals and talk about what can bring us closer to each other. We will explore the possibilities for connecting more and contributing to the differences of people, and thus bring the peace closer. Through the richness of our experiences, we want to increase our collective knowledge and create opportunities to connect people across borders.
More on the International Day of Peace >>> 
More on the theme of the PAX Peace Week 'Peace Unites Difference!' (in Dutch) >>>
What is a dialogue?
A dialogue table is a place where four to eight people talk to each other towards a meaningful subject. A trained dialogue facilitator guides the conversation and ensures that everyone speaks and is listened. During a dialogue, you do not convince the others, but you listen to each other's experiences and insights.