Online Dialogue House: Family
Thu 9 April 2020, 10:00

-

12:00
Due to the Coronavirus outbreak, we're hosting our dialogues online for the next several weeks. This does take some getting used to, but it is absolutely not difficult at all! We use the platform Zoom, which is easy to download! Join us and register. You will receive a link to log in prior to the event. Any questions? Get in touch with us!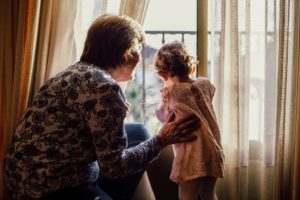 What does family mean to you? What role does it play in your life? And how are you dealing with the changing ways of contact in these times? Do you have to worry about your family, or do you get support from them? On Thursday, April 9th, we will discuss this theme with each other through an online dialogue.
Family
Family is important to many people, although for some, it is a difficult part of life. What role does family play for you? Do you feel connected to them? Are there people who you grew up with, who know you through-and-through, and people who you still speak to often? Maybe you grew up in a tight-knit family, or in another circumstance where there was little contact with family. For you, is family a place where you belong? Or maybe you have little contact with them? In the situation around the Coronavirus, much of our contact has to take place at a distance, including contact with family, which is changing as a result. This can lead to worries. For instance, how do we deal with the elderly in our family in these times? How are you dealing with this? What concerns are present for you? Or are you getting support from contact with family in these times? As you can see, there is a lot to discuss around this theme, and so, we will talk to each other about Family in this online dialogue.
Program
10:00 Log In and Reception
10:30 Break up into Dialogue groups
12:00 End of Dialogue
Online Dialogues: How does it work?
Due to the circumstances with the coronavirus and the guidelines of the RIVM, no physical dialogues will be hosted by Utrecht in Dialogue in the near future. However, there will be online dialogues that you can participate in. How does this work?
Register yourself for a Dialogue as usual via the red button on the website.
On the day of the Dialogue, you will receive the login link in the email address you provided. By clicking on the link, you can easily participate in the dialogue when it starts.
To use Zoom on a laptop or computer, open Zoom in your browser by clicking on the link that has been sent to you by email. Maybe you can install Zoom here as well if the computer asks for it.
To use Zoom on a smartphone or tablet, first download the Zoom app and then click on the sent link to use the Zoom app on your phone.
By clicking on the link that was emailed to you, you will automatically be redirected to the online dialogue!
Questions over the online dialogues and/or Zoom? Send us an email at info@utrechtindialoog.nl