Green in the city
Thu 10 March 2022, 19:30

-

21:30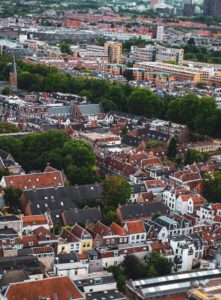 How do you experience the green life in the city? Do you contribute to making the city more green along with your municipality? What does the city offer us to be able to live green? How can the city be more livable with its green areas? What does the city look like in the most ideal situation for you?
On 10 March, we'll have a dialogue about the green in the city center with others. In this dialogue, we will talk about how we experience the green life in the city and how we can make an influence to make it better. We believe that as Utrechters we can make an impact on the urban greening plan of the municipality. Come join us. You can register via the link/red button.
Programma
19:00 Reception
19:30 Introduction and overview of the theme
20:00 Dialogue in small groups
21:15 Sharing insights with each other
21:15 Closing
We hope that this meeting can continue live in the Kargadoor. If the measures do not allow this, it can happen online. You will be informed about this.
What is a dialogue?
A dialogue table is a place where six to eight people come together to talk about a specific theme. A trained dialogue facilitator guides the conversation and makes sure that everyone is heard and everyone gets involved. In a dialogue, the goal is not to win others about to your perspective, but to listen with an open mind to their experiences.
Voting makes the city
This dialogue is part of a series of conversations in various places in the city approaching the municipal elections. Everyone is welcome. We share experiences, wishes and needs. We collect the insights that come from these dialogues and feed them back to the new city council and all partners and participants involved. You can read the entire program here (in Dutch) >>>
Read more about what a dialogue is >>>