Dinner & dialogue: Utrecht, welcoming city for refugees
Tue 9 May 2023, 19:00

-

22:00
Will you come celebrate Europe Day on May 9? While enjoying a delicious meal, we will reflect on Utrecht as a welcoming city for refugees in the heart of Europe. What is already going well? What are everyone's experiences? And what can we still learn from?
This initiative is a co-production of Stichting Utrechts Platform voor Levensbeschouwing en Religie (UPLR), Stichting Utrecht in Dialoog, UPF-Nederland and PAXforPeace. The responsibility lies with UPLR, in which the main religious and secular worldviews in Utrecht participate.
Speakers
About the integration of refugees in Belgium with different secular and religious backgrounds.
Dhr. B. (Brahim) Laytouss, Belgian-Moroccan theologian, Founder of the Al Markaz Mosque in Ghent and Director of the European Development. And Research Academy in Belgium (EDARA), Lecturer in Islamic Studies at the Faculty of Comparative Religious Studies and Humanistics (FVG) in Antwerp.
Pitch about the concepts of "land" and "state. When a refugee flees his/her country, what is he/she actually fleeing from? And what does he/she expect from a 'new country'?
Dhr. C.G.J.G. (Bert) van Roermund, Emeritus Professor of Philosophy of Law at Tilburg University and member of the Council of Members of PAX Christi Netherlands.
Over de integratie van vluchtelingen in België met verschillende
levensbeschouwelijke achtergronden.
Dhr. B. (Brahim) Laytouss, Belgisch-Marokkaans theoloog en oprichter van de Al Markaz moskee in Gent en directeur van the European Development And Research Academy in Belgium (EDARA), docent Islamitische Studies aan de Faculteit voor Vergelijkende Studie van Religies en Humanisme in Antwerpen.
Over de begrippen 'land' en 'staat'. Als een vluchteling
zijn land ontvlucht, waarvoor vlucht hij/zij dan eigenlijk? En wat verwacht hij/zij van een 'nieuw land'?
Dhr. C.G.J.G. (Bert) van Roermund, em. hoogleraar rechtsfilosofie aan de Tilburg
University, Faculteit Law, Public Law & Governance, thans lid van de Ledenraad
van PAX Christi Nederland.
In dialogue with each other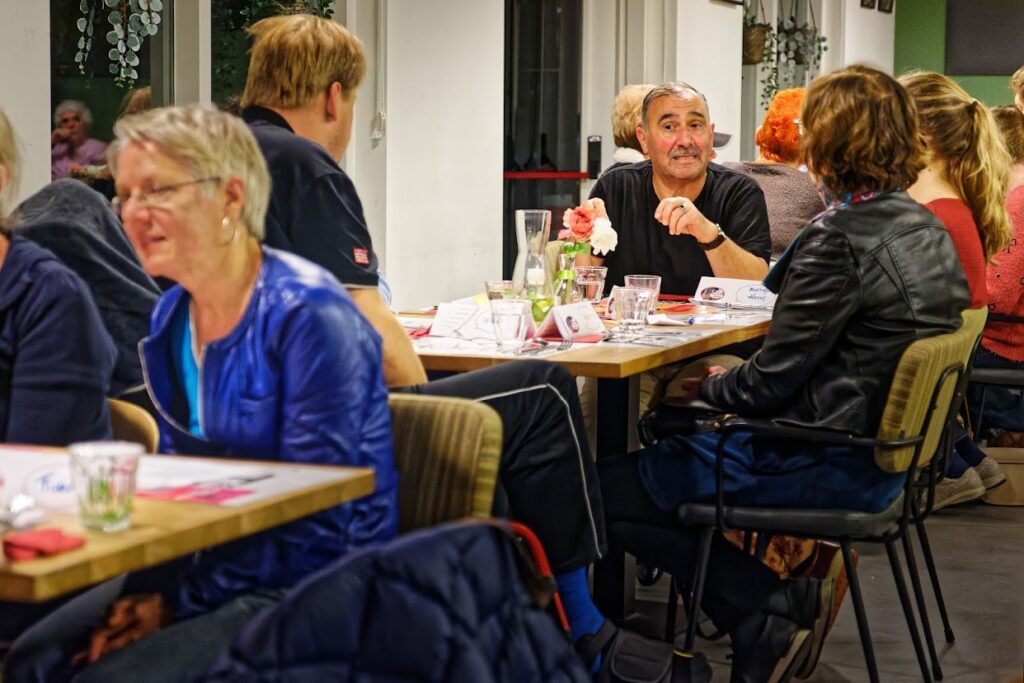 Over a three-course meal, we also explore our own experiences of hospitality in Utrecht. When did you feel welcome? How do you welcome others? Led by a dialogue facilitator, at each table 3 newcomers and 3 local residents talk about their personal experience and their wishes regarding these themes. We conclude the evening by sharing the outcome of the different conversations. Be welcome and discover at the table what we can do for each other.
With the added inspiration of an inspiring performance by some actors from the group of Bright O. Richards, actor, writer and founder and director of the New Dutch Connections Foundation.
More info and signing up
More information: www.europadagutrecht.nl | Frans de Wolff T 030 – 294 26 86
Registration required: no later than Tuesday, May 2, via this link >>.
The meal is free of charge. A voluntary contribution is
appreciated (with QR code).