Creative in Lockdown
Thu 14 January 2021, 19:30

-

21:30
What do your days look like when in lockdown? Do you have a new hobby or creative ways to stay in touch with your loved ones? How do you make sure that not all days are the same and that you keep going? Share your experiences and listen to those of others during this online dialogue. Everyone is welcome! You can register via the red button.
Creative in lockdown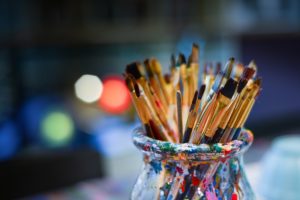 Since the October last year, the Netherlands has gradually gone into lockdown again. Currently, only essential shops are open, we have to limit our social contacts, and the advice given is to stay indoors as much as possible. What are your days at home like? How do you ensure that not all days are alike? How do you keep going? How do you prevent boredom? All changes can be accompanied by tensions and emotions that you may not have experienced before or with new creative discoveries that you make within yourself. Do you feel lonely now that you can't go out as much and have fewer social contacts? Can online contact and activities offer a solution? Do you have a new hobby, or have you picked up an old one again? Share your stories with others during this online dialogue.
How does an online dialogue work?

An online dialogue is a conversation about matters that concern more people. You listen attentively to each other's personal experiences, you investigate and go deep into a theme, and together, you come to a broader and deeper insight.
You can register for an event via the red button, and you will receive an email with a login link and password that will give you access to the online room on the internet where the event takes place.
We use Zoom for our online conversations. Do you need help going online with Zoom? Indicate this on the registration form and arrive half an hour earlier.
Read more about using Zoom here >>>
Read more about what a dialogue is here >>> (link available in Dutch only)