Celebrate Cultural Diversity
Fri 21 May 2021, 19:15

-

21:30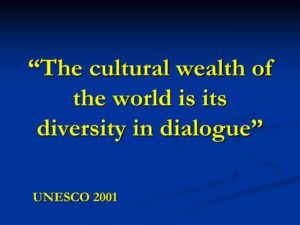 On May 21, we will be celebrating the International Day of Cultural Diversity. You are more than welcome to celebrate the cultural richness of the world in this online dialogue! In this dialogue meeting, we explore the value of cultural diversity, differences between people based on cultural background, the communities we are part of, and society as a whole through our personal experiences. Discover the cultural diversity in yourself and around you and join us!
Discover cultural diversity in yourself & around you!
What cultural roots do you have and which ones are important to you? How do you experience cultural diversity in your neighborhood, social environment, at work and in (social) media? Do you often meet people from different or more different cultural backgrounds? Do you experience diversity in yourself, and with others in your community as enriching? Or do you have completely different experiences? What makes it worthwhile for you and what does this require of you?
UNESCO defines cultural diversity as the uniqueness of each individual and of the different identities that arise from it. UNESCO emphasizes the positive effect of cultural diversity on developments, societies, and cultural diversity as a human right. Companies and governments notice the value of diversity mainly in an increase in creativity, innovation, results, and economic growth.
Programme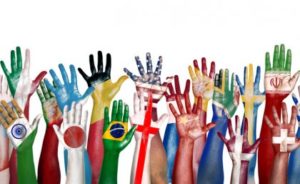 19.15 Welcome and inspiration on the theme
19.30 Celebrating cultural diversity, by Mala Paltoe
20:00 Into groups in conversation! (also women and English speakers)
21.15 Harvesting yields
21.30 Closing
Do you need help getting online or using Zoom? Indicate this on the registration form, make an appointment, or join us fifteen minutes earlier!
Get in the mood with the impression of the 2019 celebration and the 2020 online celebration.
What is a dialogue?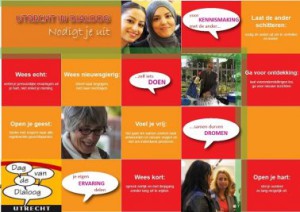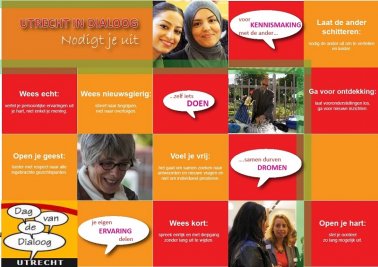 A dialogue is an open conversation about experiences, dreams and possibilities. In a dialogue, you enter into a conversation with each other, and you meet people who you may not normally meet. Everyone is discussed and heard. Real listening is the basis of this. A dialogue contributes to mutual understanding, connection and insight.
Since the corona crisis, we have been going into dialogue online so that everyone can participate at a safe distance. We use Zoom for the online conversations. You can sign up for a dialogue via the red button on the top of the page. You will then receive an email with a login link and password that will give you access to the Zoom meeting room where the dialogue takes place.
Read more about using Zoom here >>>