Conversations for a better life
De Kargadoor and Utrecht in Dialoog join forces for a series of inspiring conversations. We are going to talk about our lives and how we can live an even better life. 
Better life
What does it mean to you to live well? A question we've been asking ourselves for ages. Do you think about achieving success? Fulfilling your needs? Can you do what you enjoy? Do you think of qualities like kindness, generosity, or honesty or empathy? Is it a good idea to think in terms of 'good' and 'bad'? In this series of dialogues we investigate this from personal experiences. Conversations in which judgments, opinions and advice are avoided and listening and appreciating everyone's perspective is paramount.
Seven conversations
This series of seven conversations is inspired by the list of 'Seven Deadly Sins' compiled by Pope Gregory I in the 6th century. You've probably heard of it; pride, greed, anger, envy, lust, gluttony and sloth. But what do these mean for us today? What if we leave our judgment behind and examine these qualities together on the basis of our own experiences? What then do we learn about what makes us happy, and how to live in harmony with others and our environment?
Put them in your calendar and sign up!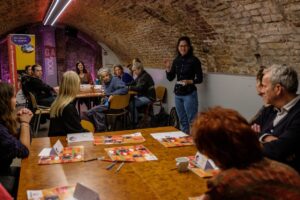 Enjoy more with less?
Tuesday 27 September  19:30 – 22:00 hrs
You often hear criticism of the Dutch 'consumption society' and 'performance society'. Do you feel the pressure to 'consume less'? Buying less new stuff, driving less by car, living in a smaller house because it is more sustainable? What would cutting down do to our contentment and happiness in life? Sign up too!
Pretty angry
Wednesday 19 October 19:30 – 22:00
In this dialogue we want to exchange thoughts about the power of anger. What makes you angry? And what does that say about what is important to you? What do you think should finally change? What are you going to do with that anger? Does anger give you energy to take action, or does it make you still and freeze? Can the negative emotion of anger be turned into something positive? Sign up too!
Long live the laziness?
Wednesday 23 November 19:30 – 22:00
Laziness. The lack of the will to do something… Do you always have to want to do something? How do you view laziness? the lack of the will, or rather the presence of it. How do you view this? Sign up. 
Eating, feasting?
Wednesday 21 December 19:30 – 22:00 hrs
My father always said: Everything in moderation. Isn't that a bit boring? Isn't it wonderful to fly out of the corner every now and then? To eat that whole bag of chips in one go every now and then. Or to celebrate for a few days? And that hangover? Well…that's part of it, right… Share your experience and your dreams about gluttony and temperance. Sign up
Going up to the top?
Wednesday 18 January 19:30 – 22:00
Can you teach love?
Wednesday 15 February 19:30 – 22:00
Can you share happiness?
Wednesday 15 March 19:30 – 22:00
What is a dialogue?
A dialogue is an open conversation about experiences, dreams and possibilities that contribute to mutual understanding, connection and insight. Meeting based on essential curiosity is paramount. We explore experiences, perspectives, dreams and possibilities. In a dialogue you actually talk to each other. Everyone is heard and heard. You investigate together what works and what it is all about. You speak for yourself, don't think for anyone else and don't give advice. In dialogue you see other meanings and you come to new insights. Listening attentively and examining one's own judgments and other points of view are essential.
We start the evening with a short inspiration on the theme. This can be done, for example, by means of a speaker, exercise or film. We then explore the theme in groups of 6 to 8 through the dialogue. At the end of the evening we try to summarize the lessons, insights and thoughts of the evening together.