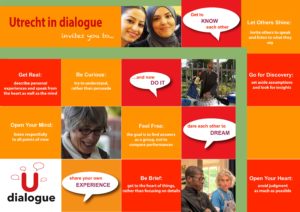 Would you like to participate in our dialogue sessions and meet people? Share your views, exchange ideas, and hear stories? Expand your own views, and beliefs?
Are you curious how a dialogue works? Want learn how it can benefit you in the workplace or at home?
Would you like to volunteer, partner with us or become one of our community ambassadors?
We have many opportunities in ways you can get involved with Utrecht in Dialogue.
Participate in a Dialogue
We organise and host over 100 dialogues a year together with our community partners across Utrecht. The topics range from Women's rights on International Women's Day, Diversity, European-elections, Self-expression, Family, Love, Music, Respect, to Racism. Check our upcoming dialogues, sign-up and participate in one of our next dialogues.
Become a Volunteer
We are supported and operated by a dedicated team of volunteers, who help conceptualise, organise and facilitate dialogue sessions', and manage the foundation. Utrecht in Dialogue is dependent on reliable volunteers. We are always on the look out for volunteers who would like to assist with:
Conceptualising dialogue sessions and facilitating them
Operations management
Volunteer Coordination
Community engagement and networking
Partnership and fundraising coordination
Graphic design
Photography
Video-making and editing
Marketing and Communication
If you are interested to explore opportunities, go to vacancies
Partner for Dialogues
Are you interested to organise dialogue sessions with us? Have a fundraising idea? Do you want to make a contribution? We are happy to discuss about opportunities where there are synergies. You can contact Ms. Wilma de Buck at info@utrechtindialoog.nl
Be Trained
Are you interested to become a trained dialogue facilitator? Our experienced dialogue trainers conduct trainings regularly. Once, you follow the course, you can facilitate one of our dialogue sessions. We also provide dialogue training for professionals or organisations to develop dialogue skills.  Check our upcoming Trainings and Workshops.
Internships
Do you have creative ideas for recruiting volunteers? Are you interested to make the dialogue sessions more effective? Do you know how to enlist more participants? Connect with us to explore internships, research and traineeship opportunities.
Stay Connected
Stay connected and be informed on upcoming dialogues. Follow us on Facebook, Instagram, LinkedIN, Twitter, Youtube or sign-up for our monthly newsletter.