Paul Morrow joined Utrecht in Dialogue after moving to the Netherlands from the United States. As a founding member of the English Language Dialogue team he created partnerships with organisations across Utrecht, planned and participated in dialogues, and in the process discovered new sides of the city. Paul works now at the Human Rights Center Dayton University on Teaching, Research and Dialogue.
Getting involved in the community
I joined Utrecht in Dialogue shortly after arriving in the Netherlands with my partner, who had been hired for a postdoc. I wanted to find a way of getting involved in the community, and of building my own skills outside of academia. With guidance from Jorinde Luyts, I became a founding member of the English Language dialogue team, planning events with partner organizations like Town and Gown at UCU, De Kargadoor, and De Voorkamer. I've also helped plan events in conjunction with UID's tenth anniversary photo exhibition, and have done regular web editing.
A very different life story
The dialogue "Discover the Other" at the ZIMIHC Theater Stefanus in Overvecht during the month of Ramadan was memorable, in part because I was able to have a long conversation with two Surinamese Netherlanders. One of them came to Europe from South America as a worker when he was already thirty. It was a very different life story, but one that in its timing matched pretty precisely my own arrival in the Netherlands; it made me reflect on the relative privileges of education and freedom of movement that made it possible for me to live here. Another memorable dialogue was the first I organized at De Voorkamer around Saskia Harkema's book, Blijven of gaan?. There at my table were two middle-aged Americans who had recently moved to Utrecht in response to Donald Trump's election as president. Like many in the Netherlands, I had been accustomed to think of refugees and economic migrants coming to the country from poorer, less developed, or conflict-ridden nations, largely in the global south. It was enlightening to see that my own home country regularly produces both economic migrants (like myself) and politically motivated emigrants, like this couple.
Professional interest in dialogue
I have a professional interest in dialogue, as it's a core part of a philosophical education. However, the methods and reasons for undertaking dialogue in a classroom differ in important ways from the methods and mission of Utrecht in Dialogue. The idea that people can come together from across economic, religious, geographic, and racial barriers to sit around a table with strangers for two hours and open their hearts remains surprising, and inspiring, to me. It's a technique and a movement that has helped me secure my next academic position, and one that I hope I will be able to carry back to the United States next year.
Bringing communities together
My dream for dialogue is that we can structure and plan events that are fully welcoming and attractive to people from all social strata, and not only those relatively well-educated, relatively economically secure individuals who are already predisposed to participate. In some cases, external events give people across the community an incentive to join dialogues; I'd like to see an increasing level of internal commitment to the practice across our various communities.
The power of dialogue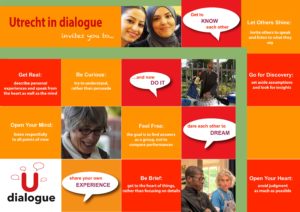 Dialogue is currently seen by public officials as a relatively low-cost, low-commitment means of responding to local or national crises, gathering public input, and addressing community divisions. This view of dialogue is not mistaken, per se; good dialogues really can advance each of these goals. But it is a mistake to think that dialogues are only instrumentally valuable, or that the good effects they produce can be easily predicted or guaranteed beforehand. I would like to see greater recognition of the unexpected (and unpredictable) benefits of dialogue: the connections that are forged between individuals at particular tables, or between community groups that share space or resources in order to host events. These good effects are difficult to quantify, but no less important for that.