Training to facilitate a dialogue
Thu 6 February 2020, 19:30

-

22:00

|

Recurring Event

(See all)

One event on Tue 9 July 2019 at 19:30

One event on Tue 22 October 2019 at 19:30

One event on Thu 6 February 2020 at 19:30
This training is aimed at people who have attended at least three dialogues, and who would like to learn to facilitate a dialogue. Ever wonder how you can encourage an appreciative dialogue about sensitive topics? How to provide a structure and space that allows to open hearts and brings new insights through sharing experiences and dreams? You will learn it during this training! To sign up, click the red button above.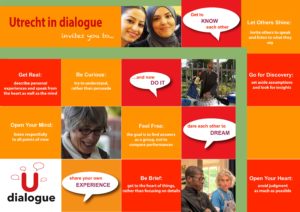 The purpose of dialogue is to bring people and perspectives together to get a view of the whole, more insight and the positive change, personal and collective action that is possible. The more you practice being curious with an open heart, will and mind the more it will bring you and others, the further we come together.
The training
We invite you to take part in this English-language training where you will learn and practice how to facilitate a dialogue and learn more about the dialogue principles. During the training, you will get to know what an appreciative dialogue is, requirements for it and how it is structured. An appreciative dialogue follows four steps: 1) getting acquainted 2) sharing and exchanging one's experiences 3) envisioning new possibilities and 4) formulating concrete actions.
Role of the facilitator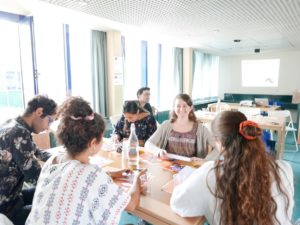 In this training you examines and learn more on the role of facilitator. The equivalence and personal attitude needed to create a save space, make open sharing and inquiry possible. On how to be an example in appreciative listening and asking the 'right' questions. You practice facilitating a dialogue in a small group to learn how to facilitating a 4 step dialogue.
Next step
After this training session, you can start practice facilitating a dialogue together with experienced people in the Dialogue House. You can practice running a table with a more experienced dialogue facilitator together, or come and get further practice at one of our Dialogue House events (held the first Wednesday of each month at Maliebaan 45).
Costs
The costs for the training are: 10€ for students/U-pas holders, 50€ for volunteers and 150€ for organizations.
If money is a problem we are happy to discuss an alternative contribution!
More