Online Dialogue House: Rules of conduct
Wed 1 April 2020, 19:00

-

21:00

|

Recurring Event

(See all)

One event on Wed 6 May 2020 at 19:00
Because of the Corona crisis, the Dialogue House is going Online. That takes some getting used to, but it is not difficult at all! When you sign up you will receive a link with which you can log in to an Online Zoom session.
Fancy a good conversation? Would you like to supervise an online dialogue? Want to meet other dialogue facilitators? Do you have an idea or plan that you would like to discuss with others or need help with? Would you like to practice with online coaching of a table or try out a theme?
In the online Dialogue House, experienced and less experienced dialogue facilitators practice guiding online dialogues. Join in and sign up via the red button!
New rules of conduct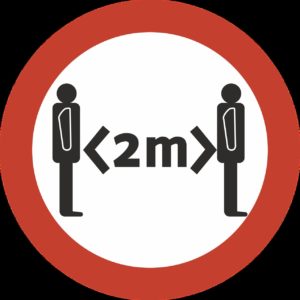 We now live in a time with different rules of conduct. Where shaking hands stood as the national standard of how we treat each other, this is now prohibited and we must avoid social contact as much as possible: the public space is not yet locked down, but much is closed. We are not allowed to hoard, but you do want to have your necessities at home. We have to look at each other but now at a distance. Physical contact is no longer possible and this contact must shift to online. How do you deal with these new rules? Are you comfortable with that, do you stay at home or do you keep getting together with people you are attached to? Are you looking for other ways to keep in touch and to see your neighbors? And how do you deal with people who deal with the new rules differently from you? What are you doing then? Do you start a conversation, do you let it go, do you speak to people? What have you experienced, what is the outcome and how do you feel about it? Share your experiences, listen to those of others and discover what works.
Program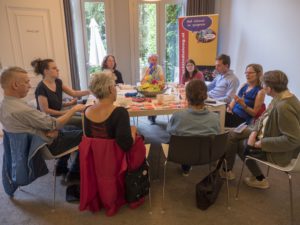 Program:
19:00: Log-in to the platform
19:30: Overview and Introductions
19:45: Dialogue in groups of 6-8 people
21:15: Review and Share Insight
21:30: Announcements and Informal Discussion
The Dialogue House
The Dialogue House is a gathering place for people who are passionate about dialogue. Who want to enjoy conversation with others under the guidance of trained dialogue facilitators. Who hope to explore particular themes in dialogue form, to learn about new topics, or simply to join the conversation. Would you like to test out a theme, try something unfamiliar, facilitate a dialogue, or take a seat at the table? Sign up online!