Did you participate in one or more dialogues and want to learn how to facilitate one youself? Do you want to know more about the method of Utrecht in Dialoog and practice facilitating? Then you should come to the Dialogue Facilitation Training! During this training, you will discover the background of the dialogue method en its different steps. You can practice with listening, asking questions, and facilitating a dialogue. Sing up here.
Experiencing it first
It is best to experience the value of a dialogue as a participant before following the traninig. This way, you already know what it is and the different steps it involves: getting acquainted with each other, sharing experiences, sharing dreams, and formulating actions to bring these dreams a little closer.
The training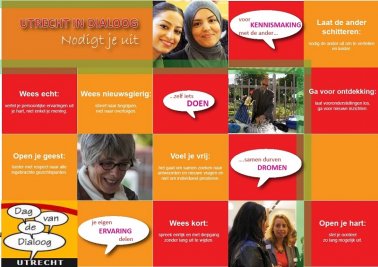 The training will address the following:
An explanation of the background and principles of the appreciative dialogue-method, based on Appreciative Inquiry.
Practicing listening, asking questions to go deeper.
The steps of the dialogue: getting aquainted, exchanging experiences, sharing dreams and formulating actions.
Practicing with facilitating en giving each other feedback
How to explore a theme more in depth, and formulate key questions.
After the training you can participate in practice-sessions with other more or less experienced facilitators. It is also possible to go and facilitate a dialogue with a more experienced facilitator.
Practical information
The training will be given by Wilma de Buck. The next training will be held on:
Monday the 26th of March 2018, from 19:00 to 22:30, on the Maliebaan 45, 3581CD Utrecht.
Costs: 150 euros for organisations, 50 euros for volunteers, 10 euros with U-pas and for students. Sign up.
More