Coming Out/Uit de kast
vr 28 juni 2019, 19:00

-

22:00
Uit de kast
Op vrijdag 28 juni gaan we in De Kargadoor met elkaar in gesprek over hoe het is om 'uit de kast' te komen.
Ben jij ooit uit de kast gekomen met betrekking tot gender, seksualiteit of iets heel anders? Kun je je voorstellen hoe het voor een ander is om openlijk te spreken over zijn of haar seksualiteit? Welke invloed heeft uit de kast komen op hoe je elkaar behandelt en ziet?
Hierover gaan we het hebben op deze kleurrijke avond binnen de week van Midzomergracht Festival.
Programma
19:00 inloop
19:30 introductie
19:45 in dialoog in groepen van 6-8 personen
21:30 inzichten delen
22:00 afsluiting
Meer informatie
In English:
Coming out
Friday the 28th of june, we will have a dialogue at De Kargadoor on coming 'out of the closet'.
Did you ever come out with regard to gender, sexuality or something completely else? Can you imagine how it is for another to speak openly about his or her sexuality? What influence can coming out have on how we treat and see each other?
We will discuss this on a colorful evening in the week of Midzomergracht Festival.
Programme
19:00 doors open
19:30 introduction
19:45 dialogue in groups of 6-8 people
21:30 share insights
22:00 doors close
Rainbow Dialogues 
Utrecht in Dialoog hopes to bring together people for its rainbow dialogue series as part of the 23rd Midzomergracht Festival. Enrich yourself in talking with each other! Share your stories, experiences and learn from the experiences of others.
The Netherlands is one of the most progressive countries in the world when it comes to institutionally supporting gender and sexual equality. But are there still barriers to achieving true social equality? Are there misconceptions or prejudices that you encounter when engaging with people from different backgrounds or religious traditions? What would it take for you to be truly respected as an equal?
More Information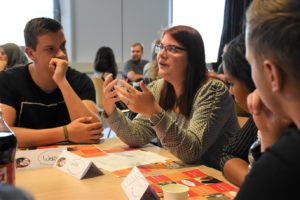 A dialogue is a conversation in which free exchange of thoughts and ideas take place leading to new perspectives and insights. It is a collective way of deepening understanding, based upon listening and speaking from your heart. For more information, or to find out about becoming a volunteer, write to us at info@utrechtindialoog.nl, or follow the links below:
What is a dialogue?
Upcoming Dialogues in English
Midzomergracht Festival